Get your license with the #1 Driving school and Online Driver Education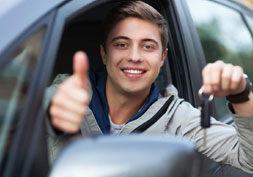 At BayHill Driving School, our mission is to deliver quality, defensive driver education and training programs to develop a community of safe, responsible, and respectful drivers. Our driving instructors are committed to providing you with quality driving lessons, defensive strategies, and tips to keep you safe on the road.
Our behind-the-wheel lessons are an exclusive one-on-one session. We want our customers to be comfortable and confident that our primary focus will be on delivering exceptional and professional service.    Each driving instructor is screened and licensed by California DMV. Female driving instructor is on staff and available by request.
Teens and adults from all across California are welcomed to take our certified DMV online education course.  Once completed, we mail your certificate of completion, DMV form (OL237) directly to you .
Teens and adults who are located in Bay Area can take advantage of our bundle package.  This package includes online driver education and 6 hours behind-the-wheel training.  Take advantage of this package discounted rate.
 We provide up-to-date news and articles in regards to driver education. Also, connect with us through social media. From time to time, we offer discounts exclusive to our social media family.
Feel confident that you made the right choice in selecting BayHill Driving School for all your driver education needs.
Ready to get your California Learner's Permit ?
Teens between the ages of 15 1/2 and 17 1/2, in the state of California, must provide proof of completing 30 hours of a driver education course. Our online course is California DMV approved and you can log in anywhere,  at anytime, and work at your own pace.
Our online driver education course covers all the required information you need to learn to earn your learners' permit.  Each section comes with video overviews and unit tests.  The unit quizzes ensures you retain the information to help you pass the comprehensive final exam. Unit quizzes can be taken as many times as needed until you pass.
Once the course is complete, we mail your certificate directly to you at no additional cost.  There are no hidden fees!  This course is valid for ALL California residence.
You're just a few steps away from getting into the driver seat!
Register Today.